Page 18 - AGRI2223_Binder HLink_v3
P. 18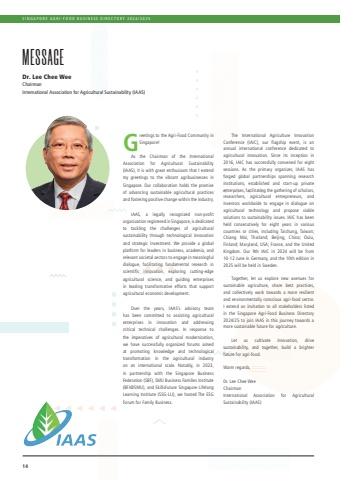 SINGAPORE AGRI-FOOD BUSINESS DIRECTORY 2022/2023
 EMBRACING CHANGE, CHARTING THE PATH:
IN SINGAPORE'S AGRI-FOOD & BUSINESS SECTOR
 T he winds of change signaled much uncertainty to the market, as the climate is subject to radical movements causing disruptions to businesses and livelihoods. As we look forward to what is said to be "the endemic", the Singapore Agri-Food and Business
industry has put into place the duly checks in accounting for fresh produce, both imports and exports, with the taking of necessary precautions to prevent any circumstances of supply depletion.
More notably, at the spike of the pandemic, the industry experienced intermittent turbulent waves with real-time hard-hit pressure, as the sector had to ensure sufficient food supply with no stoppage in global supply chain processes during such unprecedented times.
As market demands surge to an all-time high through these trying times, the sector is seen to emerge strong with adequate resources, be it pre-pandemic days or in charting the path forward.
12
 Overview of the
Meat market in Singapore
Singapore has seen around $1.5 billion worth of meat every year, as per the Meat Traders' Association 2020 Average Yearly Report, based on statistics consolidated from 2010 to 2019. Meat Traders' Association (MTA) oversees meat supply, of which the company comprises of meat importers, exporters, and producers in Singapore. MTA also works with government agencies and embassies in Singapore to strengthen ties and continue to build strong resilience in Singapore.