Page 38 - IRAS2021_020621
P. 38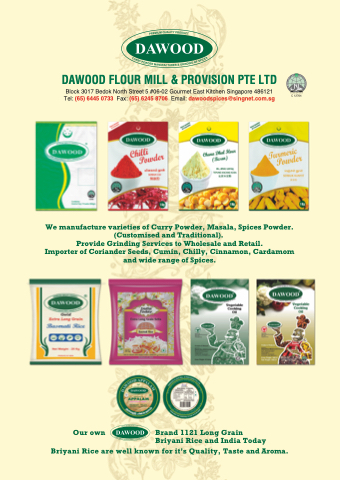 DAWOOD FLOUR MILL & PROVISION PTE LTD
Block 3017 Bedok North Street 5 #06-02 Gourmet East Kitchen Singapore 486121 Tel: (65) 6445 0733 Fax: (65) 6245 8706 Email: dawoodspices@singnet.com.sg
C 12764
 We manufacture varieties of Curry Powder, Masala, Spices Powder. (Customised and Traditional).
Provide Grinding Services to Wholesale and Retail.
Importer of Coriander Seeds, Cumin, Chilly, Cinnamon, Cardamom and wide range of Spices.
 Our own Brand 1121 Long Grain Briyani Rice and India Today
Briyani Rice are well known for it's Quality, Taste and Aroma.