Page 12 - IRAS2021_020621
P. 12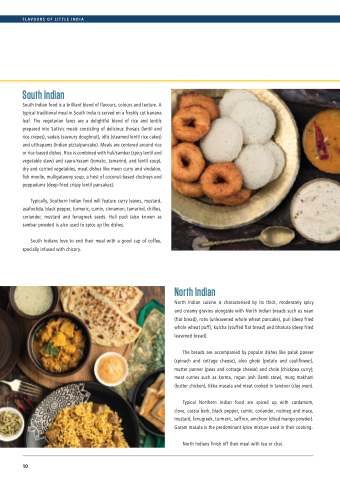 FLAVOURS OF LITTLE INDIA
                   South Indian
South Indian food is a brilliant blend of flavours, colours and texture. A typical traditional meal in South India is served on a freshly cut banana leaf. The vegetarian fares are a delightful blend of rice and lentils prepared into Sattvic meals consisting of delicious thosais (lentil and rice crepes), vadais (savoury doughnut), idlis (steamed lentil rice cakes) and utthapams (Indian pizza/pancake). Meals are centered around rice or rice-based dishes. Rice is combined with huli/sambar (spicy lentil and vegetable stew) and saaru/rasam (tomato, tamarind, and lentil soup), dry and curried vegetables, meat dishes like meen curry and vindaloo, fish moolie, mulligatawny soup, a host of coconut-based chutneys and poppadums (deep-fried crispy lentil pancakes).
Typically, Southern Indian food will feature curry leaves, mustard, asafoetida, black pepper, turmeric, cumin, cinnamon, tamarind, chillies, coriander, mustard and fenugreek seeds. Huli pudi (also known as sambar powder) is also used to spice up the dishes.
South Indians love to end their meal with a good cup of coffee, specially infused with chicory.
10
North Indian
North Indian cuisine is characterised by its thick, moderately spicy and creamy gravies alongside with North Indian breads such as naan (flat bread), rotis (unleavened whole wheat pancake), puri (deep fried whole wheat puff), kulcha (stuffed flat bread) and bhatura (deep fried leavened bread).
The breads are accompanied by popular dishes like palak paneer (spinach and cottage cheese), aloo ghobi (potato and cauliflower), mutter panner (peas and cottage cheese) and chole (chickpea curry); meat curries such as korma, rogan josh (lamb stew), murg makhani (butter chicken), tikka masala and meat cooked in tandoor (clay oven).
Typical Northern Indian food are spiced up with cardamom, clove, cassia bark, black pepper, cumin, coriander, nutmeg and mace, mustard, fenugreek, turmeric, saffron, amchoor (dried mango powder). Garam masala is the predominant spice mixture used in their cooking.
North Indians finish off their meal with tea or chai.